Shopping Cart
Your Cart is Empty
There was an error with PayPal
Click here to try again
Thank you for your business!
You should be receiving an order confirmation from Paypal shortly.
Exit Shopping Cart
Venture Ballistic Composites Inc introduced the new Active Shooter Kit Bag and Shield all in one at the 2014 NTOA Mobile Alabama Conference.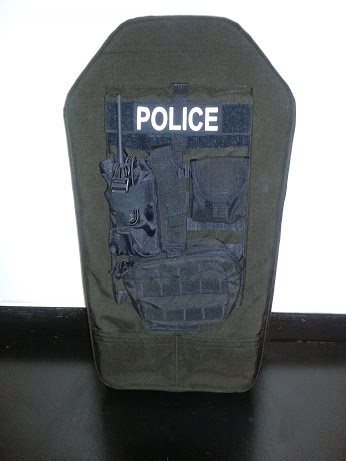 Join Venture Ballistics in Mobile Alabama, Sept 20-23, 2014
NTOA is returning to the magnificent Gulf Coast for the 31st Annual Tactical Conference and Trade Show! Mobile, Alabama is our destination and the local law enforcement's Southern hospitality guarantees a successful week of training, networking and discovering VBC custom designed ballistic shields. VBC shields are the most affordable, lightweight, and extreme shields on the market today.  See you in Mobile at booth 322. 
http://ntoa.org/site/tactical-conference/
The Transnational Gang Threat
About This Series
FBI.gov recently accompanied a group of 22 community leaders and law enforcement officers from the U.S. and six Central American countries as they took part in CACIE—the Central American Community Impact Exchange program—an innovative training program whose mission is to deter young people from joining violent transnational gangs.
- Part 1: Joining Forces to Meet the Challenge
- Part 2: Building Partnerships That Last
- Part 3: Overcoming the Language Barrier
- Part 4: Adding Prevention to Intervention
Fighting Crime ... Solving Problems
The Appleton Police Department is one of the most innovative and progressive law enforcement agencies in the nation. We offer a number of programs that provide the citizens of Appleton an opportunity to learn more about the Department and to interact directly with police officers in positive situations. We also offer a number of career options for police officers, which include lateral positions within the department and voluntary special assignments.
To get a firsthand look at the Appleton Police Department and our employees, please consider our ride-along program.
We currently work under a District Team Policing model and officers are assigned to one of three patrol districts.
The Appleton Police Department employs the finest, expects their best, and serves our community in the pursuit of the highest quality of life. We promote leadership throughout, and deliver excellence in innovative policing at the neighborhood level.
Compassion • Integrity • Courage    http://www.appleton.org/departments/?department=e57d6de90f38
VBC  
The Monroe County Florida Sheriff SWAT team has now deployed Venture Ballistic's "First Responder-2 aerospace designed ballistic shield, (NIJ Level IIIA), and the SWAT Bunker aerospace designed ballistic shield, (NIJ Level III).  The MCSO SWAT team is responsible for over 150 miles of the Florida Keys.  The VBC interchangable view port system will result in major savings if ever damages or cracked . VBC
/